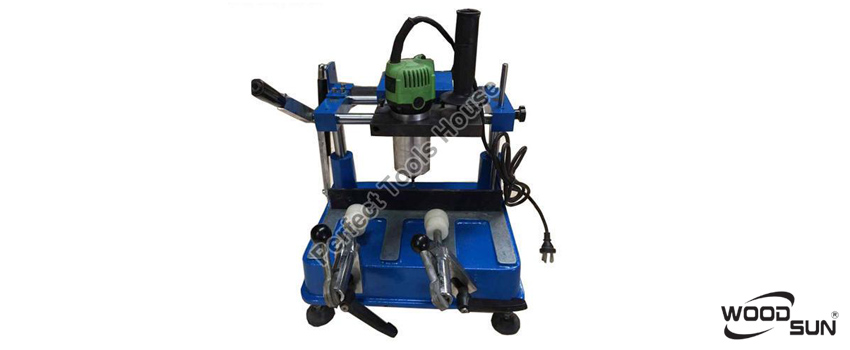 Aluminum copy router machine for opening holes and canals into the aluminum profiles. The one spindle drill can mill - open all sorts of holes and canals with special templates for all work. Aluminum Profile Copy Router machines are designed and manufactured for all types of small and large aluminum profiles.
Aluminum window making and handle accessory of window opening holes on the aluminum profiles with hard drills are no problem. A cooling unit for the drills of the copy router machine will allow you to use the drills more along with time before the drills go unsharp.
By using special copy router machines, it is possible to change the R.P.M of the drill from 1 to 24000 rounds per minute. The machines guarantee orthogonal working on the aluminum profiles for the best drilling and milling results.
Electricity monitoring units will protect the copy router machine against low and high voltage frequencies. Diverse security options are also available to safeguard the operator and the machine.
Uses of Aluminum Copy Router
An aluminum copy router is an efficient tool for processing profiles made from aluminum and PVC. This type of cutting machine is compact and features automatic spray lubrication and a manual movement of the head.
Its large useful scope and high efficiency make it an excellent choice for the processing of many materials, including sheet metal, aluminum, PVC, and even some wood. It has a patented hydraulic clamping system that permits the cutter to move in two directions at the same time.
The single-head model of this aluminum copy router is for sale by aluminum copy router suppliers and can mill lock holes, water slots, and hardware holes. It also has a wiring groove. The single-head model comes with a standard profiling template that can be changed at any time.
The professional version of the machine features a 1:1 ratio template and a pneumatic clamping cylinder that can be adjusted through a foot valve. The X-axis bolt measurement and a tool kit permit the operator to mill different hole shapes.
This machine is used to mill various shape holes used in aluminum alloy and the range of copy forms is large which can be milled 5mm thick material a time. According to 1:1 proportion, the hole shapes can be produced onto copy form templates to make various holes copy processing.
Separate processing of the rectangular shapes can directly complete processing through operation scope of adjustment in lieu of making copy templates.
The machine embraces imported high-speed spindle bearings, imported linear bearings, hardened round guides and Germany-imported milling cutlers. pneumatic clamping, manual operation, effortless to use, cheap and practical. You can even order a Customer-Specific Template to fit your requirements. Choose a reliable Aluminum Copy Router Supplier, that will never be a big disappointment for you!
What are the performance advantages of the Aluminum Router Machine?
The product is characterized by long-term service life, high durability, reliability, and numerous other functions. The dependable performance comes as a result of the raw material as well as advanced techniques. They purchase raw materials from different suppliers with a focus on their performance.